Full US News Summary
US News & Politics
US immigration system fail: next Google one visa away from leaving the US. Holiday lights can be seen from space, cities 30-50% brighter than during rest of year. Texas plumber harassed when his old, sold-at-auction company truck ends up in Syria, and on terror tweet. Increased patrols around business after threatening phone calls.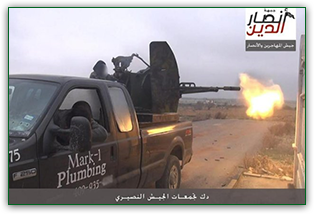 Six charged for January 2014 West Virginia water contamination from coal mining leak that sickened 300,000 residents. LAPD+FBI recover $10m art collection stolen from real estate investor in 2008. NY state awards 3 casino deals to revive sluggish economy; should bring 5,000 jobs and $300 million in additional taxes. Mixed feelings over easing relations with Cuba in Florida, which hosts largest community of Cuban-Americans. Florida judge grants first official same-sex divorce to women married in Vermont. Judge tosses out conviction of black teen executed in 1944 for beating to death two white girls in segregated Alcolu, SC. Nebraska and Oklahoma sue neighboring Colorado over legal marijuana. Sony cancels release of upcoming movie The Interview amid threats (which many theaters had already decided to do anyway). Obama commutes sentences or pardons 20 non-violent drug offenders. German scientist who helped build US space program dies at 101 in Huntsville, AL.

Full Business News Summary
Economy & Business News
Disappointing holiday sales: retailers may still squeeze profit from steep discounts. Ford expands US recall from Takata driver-side-airbags for 500,000 vehicles. GM and Jaguar Land Rover stop deliveries of cars to Russia due to falling ruble value. Mercedes recalls ~5,000 SUVs in the US for potential oil leak: 2014-15 models. Operetta about the IRS Code, which pushes US companies to relocate abroad. Google stock flat, company faces tough competition, more attractive tech stocks. By the numbers: for middle class white kid, private university degree isn't worth it. CSPB sues Sprint, third largest US carrier, over unauthorized third-party fees. For each dollar in investment / charity / aid, developing countries lose two. Chevron postpones drilling in Canadian Arctic as oil prices plummet. Flurry of London high-end properties bought by wealthy Russians, as safe investment. Business groups praise relation normalization with Cuba, a virtually untapped market at US shores.

Full Tech News Summary
Science & Tech News
Canada boost competition, auctions wireless spectrum with advantage to new carriers. New Cadillac CT6 with virtual mirror (cam) increases rear visibility by 300%. jQuery most popular JavaScript library, used on over 60% of sites around the world. ICANN hacked, employees' emails and personal information compromised. Man who lost two arms 40 years ago now fitted with mind-controlled robotic arms. Amazon pilots 1-hour deliveries for Prime members in Manhattan (extra $7.99/order). Microsoft browser choice screen for EU Windows users retired. Data visualization charts of Chinese pollution over the past 13 years. Death scene from The Interview leaked online; movie won't be released next week. Microsoft Sway web publishing app (beta) now open to the public, no invite needed. Cattle sounds recorded and analyzed for 10 months, patterns emerge: louder + higher pitch when mother separated from calf. Much more of Earth's oldest water, billions of years old, under surface than previously thought; much more hydrogen as well. Intel, dominant in desktop computing but not mobile, sees a double Atom processor find its way in Lenovo's latest mid-range phones. Curiosity rover finds first definitely identified piece of organic matter on Mars; these molecules are necessary for life as we know it, but also exist outside of it.

Full World News Summary
World News Summary
England: homeless man gives woman his last pocket change so she can get home safe after losing her wallet. She raises money online to thank him: total now ~$42,000. Despite Russia / US row, astronauts happy to team up on 2015 year-long ISS stay. Odd and untimely: in Pakistan, Mumbai attacks mastermind out on bail. Ukrainians rally to support their troops fighting pro-Russia rebels in the east. Yemen: suicide bomb claims 7 lives; sectarian turmoil since PM ouster. Pakistan air strikes kill 57 terrorists, days after 145 die in army school massacre. For some Russians, Ukraine is a crusade of sorts, with Donetsk starring as Jerusalem. Nigeria: 33 killed and dozens kidnapped by islamist group Boko Haram. Netherlands: Geert Wilders to be prosecuted for remarks about Moroccans (Reuters). (Link to the video, translated in description.) Switzerland starts negative interest rate of -0.25% for deposits over 10m Swiss francs, to try devaluing its strong currency. India successfully launches largest rocket yet, which will enable carrying larger satellites into space. Russia: despite bad news all around, Putin approval ratings seemingly as high as 80%. UK oil industry close to collapse as gas prices gets ever closer to $50/barrel.

‹ Latest News Summary