Latest News Summary ← Tiny Herald homepage
US News Summary Business News Summary Tech News Summary World News Summary
Wednesday December 31, 2014
22yo sued by United Airlines & Orbitz for site on cheap airfare layover-trick raises $33k (so far) from 1,600 on GoFundMe.Armenian dram currency falls 15% due mostly to Russian economy troubles; IMF approves $17m aid for the country.Although the Comprehensive Subcontracting Plan Test Program (CSPTP) doesn't work, per pentagon and small businesses (which it was supposed to help get federal contracts), Congress extends it for another 3 years.Exec profile: Volker Kuntzsch, born in Namibia, Masters in Zoology, became first foreign head of Japanese corp, now CEO of NZ's biggest seafood company, Sanford.Vietnam expects to close 2014 with record 5.98% GDP growth; 1.84% inflation, lowest in decades; booming exports; interview with central bank's Deputy Governor (click).Russia pumps ~$673m into Gazprombank, nations third largest lender; ~1.7bn into VTB; ~2.3bn into Trust bank earlier this week.Great roundup of new state laws taking effect in 2015, from elections to selfies.South Korea inflation (0.8%) lowest since 1999; Bank of K so far confident that growth will bring it back up, but could cut rates.Bag makers spend millions lobbying to kill CA law to ban single-use plastic bags, cheaper than paper bags, but not green.Computer Sciences Corp reaches civil settlement with SEC: pay $190m fine and change accounting practices; stock up 1%.Because of emerging markets' decreasing demand, oil price could fall to as little as $20/barrel (vs. current average of $60).Obama admin softens on 40-year-long ban on domestic crude exports; selling overseas brings a $10 premium per barrel.BLS data: West Texas (oil) leads nation in job growth; 6.2% in Midland metro, 4.7% in Odessa; Houston highest number of jobs (125k), followed by DFW (111k). Due to plummeting oil prices, Dallas Fed Reserve forecasts 125k jobs lost by mid-2015.Venezuela officially in recession with 63% inflation; GDP contraction in 2014: -4.8% (Q1), -4.9% (Q2), -2.3% in Q3. Anti-business regulations, squandered revenues, falling crude prices; the country's gov needs at least $85/barrel to break even.Quick news briefs:
Six Chinese car makers recall over 300,000 vehicles over fuel pump leaks.
Crippled by hack, Sony employees had to use BlackBerrys to communicate.
China's top two bullet-train makers merge to become more competitive in global market.
China manufacturing contracts further in December; likely monetary easing over next year.

Tuesday December 30, 2014
Amid massive corruption scandal, Petrobas (Brazil's state-owned oil company) bans bidding from largest builders / engineering firms in the country; prosecutors are seeking $380 million from involved companies."Nature" study: when focused on money, as in banking industry, people tend to behave in more self-interested ways - for a crushing double-whammy, number crunching also induces the same result in people.Pom Wonderful wins trademark suit over copycat which named its drink "pŏm".Tony Hsieh, ex-Zappos CEO, creates startup paradise in Las Vegas; 60 acres of potential.Iron Mountain (info storage & mgt) fined $44.5m for overcharging US government.NCI (cloud / cybersecurity) buys Computech for $56m (big data & software maintenance) - mostly private contractors for defense.$15 million in four days for "The Interview" just with online on-demand video: Sony exposes viable option for movie releases.UPS and FedEx introducing new shipping rates to curb oversized packages; unprepared small firms predicted to pay 50% more.Walmart starts gift-card-exchange program, accepting cards from 200 other stores.Global markets down slightly from Greek uncertainty and Russia's ailing economy.Due to 13-state minimum wage increases, 1.5 million workers likely to get an automatic raise (750k on it, and 818k right above it).Russian banks, starved from international cash, also have hard time lending locally. Government loans likely needed.Hyundai building two brand new factories in China, to better compete with GM and VW.Despite $56 million in revenue, cell phone maker Xiaomi raises $1.1bn funding.Saudi Arabia: forecasted near $39 billion drop in revenues from falling oil prices; no problem for the large-cash-reserve country.World's richest add $92bn to their collective net worth, thanks partly to oil prices and Russian turmoil; top gain by Alibaba Group (went public in Sep.) co-founder Jack Ma.

Monday December 29, 2014
$15 million in four days for "The Interview" just with online on-demand video: Sony exposes viable option for movie releases.UPS and FedEx introducing new shipping rates to curb oversized packages; unprepared small firms predicted to pay 50% more.Walmart starts gift-card-exchange program, accepting cards from 200 other stores.Global markets down slightly from Greek uncertainty and Russia's ailing economy.Due to 13-state minimum wage increases, 1.5 million workers likely to get an automatic raise (750k on it, and 818k right above it).Russian banks, starved from international cash, also have hard time lending locally. Government loans likely needed.Hyundai building two brand new factories in China, to better compete with GM and VW.Saudi Arabia: forecasted near $39 billion drop in revenues from falling oil prices; no problem for the large-cash-reserve country.Despite $56 million in revenue, cell phone maker Xiaomi raises $1.1bn funding.

Sunday December 28, 2014
Tighter monetary policy in the US and looser ones in the EU-zone should bring dollar and euro at parity, first time in a decade.German investments in Russia slow since Crimea annexation; 41% of companies like BASF, Opel, VW close factories or reduce operations; Allianz out, for legal reasons.Despite city council approval, Google not welcome in Boulder, CO: influx of well paid workers would bring gentrification (like SF) and completely change the quiet town.Debilitating sanctions and falling oil prices economically close Russia from the rest of the world, pushing it towards autarky. (But it's also a major natural gas exporter, and trades with many non-western countries.)eBook authors rebelling against Amazon's "Kindle Unlimited" service, which allows an unlimited subscription for $9.99/month, of which authors get a fraction; 75% fall in earnings, in one prominent case.Top UK banks feel reluctant but forced to adopt Apple Pay; concerns from what data Apple collects, which could allow the company to venture into banking.With renewed interest following Sony hack, similar-themed (but with father Kim Jong-il) "Team America: World Police" movie sells out on Amazon and Walmart.UK passes France to become the world's 5th largest economy (but just by $1 billion).Chattanooga, TN: from factory town to first US city with gigabit/second internet speed, nearly 50x national average; trying to make city a startup mecca; investment already start paying off.

Saturday December 27, 2014
Next gen: 17-years-old Canadian investor doubles his money in a year. His trick? obsessive research into stocks and taking the risk to buy some shunned ones (numbers validated by TD Direct & The Telegraph).Ongoing lawsuits against insurers claiming Superstorm Sandy did not cause, but reveal pre-existing property damage. Flip side: insurers can be fined by FEMA if they unduly pay, or overpay, some claims.LA Times top cars ranking by execution quality: Dodge Challenger / Charger Hellcat, VW Golf, Ford Mustang, Subaru Legacy and Outback, Mazda 3, Mercedes C-Class, Chevy Colorado, Kia Soul, and Porsche 911 Turbo S. 2014 losers: Fiat 500L & Cadillac ELR.Chinese hackers stealing from Japanese bank accounts in record numbers: a phishing email (looks like a legit' bank email), a link that installs malware, wire transfers between Japanese accounts, and Chinese foot soldiers withdrawing cash from local ATMs.VW's Audi division (40% of sales) ramps up investment in plants, tech, and new models for 2015-2019, trying to dethrone BMW as world's largest luxury car manufacturer.Good economic news, consumer confidence, and falling gas prices (extra cash), translate into profitable holiday season.Falling commodity prices and slowdown in China push value of Australian dollar down 10% against US dollar in 2014.Cuba is a museum of old American cars, a sign of the US trade embargo against the communist nation since the early 1960's.Chinese industrial profits down 4.2%, largest drop 2+ years, due in part to falling prices.Crowds at Disneyland in CA & FL so large, both temporarily closed for overcapacity.After 2013 mishaps by FedEx and UPS, 99+% packages delivered on time in 2014.To boost demand for electric cars (0.8% market share), Germany plans charging stations network across the country.Flip side: 60% of car recalls in the US are ignored (despite being free), raising safety concerns; particularly true for older cars.S&P considers oil prices in their rating: dire outlook for Europe's biggest producers like Shell, Total, BP, Eni and BG Group.

Friday December 26, 2014
Lada, last major car brand made in Russia from scratch, shrunk from 70% market share to 17% since end of Soviet Union; US auto exec hired to bring back the brand.60% of Amazon users shopped from mobile device this holiday season; see article for list of top sellers, from GoPro cameras to Walt Disney's "Frozen"-related merchandise.By the numbers: differences in net-wealth distribution between top 1% and upper-middle class Americans.After Christmas, online auctions sites like eBay see explosion of unwanted gifts listed for sale: perfume and tablets top the list.Music licensing group "Global Music Rights" about to sue Google to make them remove videos from their YouTube site.Preliminary data from MasterCard shows that US spending from Black Friday through Christmas increased 5.5%, as forecasted.Day after unwanted gifts start the legitimate returns, and the return frauds, estimated to cost $3.6 billion to retailers this holiday season, up from $3.4bn in fraud last year.Rivalry between Korean firms LG and Samsung goes too far: employees destroy the other company's products in showrooms.IBM embattled stocks: last week's low was lowest since 2011, on course to becoming the only Dow component in consecutive years, after now defunct Bethlehem Steel.CEO Elon Musk: Tesla roadster will be eligible for a battery upgrade boosting the electric car's range to 400 miles.Chinese antitrust regulator says will soon settle investigation into US chipmaker Qualcomm, suspected of price-gouging and abusing its dominant market position.Japan: inflation decreases to 2.1% as household spending diminishes; YOY income falls 1.1% last November, spending down 2.5%; unemployment flat at 3.5%.NY-based airline JetBlue offers to fly police for free to funerals of slain NYPD officers.Potatogate over: McDonald's Japan to resume serving fries on January 5th, after labor disputes on US west coast are solved.

Thursday December 25, 2014
Unions push to recruit illegal immigrants protected from deportation by Obama.Despite slowdown, China creates 13 million jobs in 2014, meeting government targets.Plagued by worldwide airbag issues and car recalls, Takata's president resigns, replaced by company founder's grand son.Subaru cancels plans to move their Crosstrek production to the US (cost and capacity of Indiana plant reportedly caused the decision).Russian finance minister assures that ruble volatility is now under control (country's sovereign debt currently near junk status).Compared globally, Australian stock market one of worse performers: softening economy, tumbling oil and iron ore prices.Increase in wages much more visible for job switchers vs. those who don't change job.California regulation to increase hen cage size by 73% takes effect on January 1.Despite renewable growth, US electricity providers shedding jobs, mostly due to nuclear reactors closing in CA/WI/FL.Russia openly offers public sympathy to North Korea, saying country's outrage about Sony movie was "quite understandable".

Wednesday December 24, 2014
Construction costs increase as economy improves, but don't hamper growth because they don't rise as fast as real estate prices.Behind-the-scenes: why the Motion Picture Association of America cares about Google search results on illicit drugs and pharma.1,400 Walmart stores located in states that passed minimum wage hikes for January 1. Company says it welcomes it, since many of its shoppers are minimum-wage earners.T-Mobile tech company of the year: fastest growth in industry, 7% market share increase in 2014, pushing all carriers to cut prices.At Japanese airbag marker Takata, involved in worldwide vehicle recalls, exec reshuffle, pay cuts, and apologies close the year.Safeway pulled caramel apples from shelves after a woman, whose family is suing the company, died from a listeria infection.Wells Fargo sued by National Credit Union Admin board for failing to review or find irregularities in mortgage-backed securities.While Russia seriously suffers from falling crude oil prices, China and Japan, 2nd and 3rd largest economies, ramp up imports.Thanks to mild weather and large supply, US price of natural gas (most common heating fuel), dropped 29% in a single month.Important lessons for small businesses from the Sony hack (e.g., buy cyber insurance!) US unemployment benefits applications fall to 7-week low, a 16% decrease in 2014.US mortgage applications up by 0.9%, rates decrease to lowest level since May 2013.

Tuesday December 23, 2014
Russian ruble stabilizes and rebounds after orders to top state-owned exporters to sell their foreign reserves and deal in rubles. Consumer spending up 0.6%, fastest rise in 3 months, and incomes rose 0.4%, the best increase since similar numbers last June. Italy regulators fine travel site Tripadvisor for not handling false reviews. Sony threatens Twitter with lawsuit if it doesn't prevent sharing leaked emails. Keurig recalls 7.2 million hot-beverage brewing machines, which can overheat and spray hot liquids in some case. Despite relatively low revenues, Chinese phone maker Xiaomi becomes world's most valued private company, passing Uber. Alfa Romeo 4C goes from concept to product in 28 months: this rear-wheel-drive two-seater gets glowing reviews. Serbian professor successfully crowdfunds Nanoplug on Indiegogo: the size of a coffee bean, this hearing aid is virtually invisible. Trend: companies use insurance companies like Prudential to take over pensions; good for companies and shareholders, but employees lose federal gov protection in the transaction. In a sense, managing risk is insurers' bread and butter; on the other, some of those are seen as taking on too much risk. This is too new to understand all the risks. 6 months after ousting founder Dov Charney, American Apparel considers take-over bid. US home sales, and inventory, down to a six-month low, after two positive months. Apple Pay rolls out as an available option at Walt Disney World in Orlando. Temporarily pulled as the ruble falls, Apple's iPhone is back in Russian stores, but 35% more expensive: base iPhone 6 at $978. Despite higher upfront costs, oil extraction like Canada's Oil Sands makes sense in the long run: once the expensive mining-type operation is set, operating costs are low. Iron ore prices down to 2009 levels, because of global oversupply and slowing growth in China, its largest importer. Russia complains that US' decision to cancel 15 years-old deal that spared them high import duties goes against WTO rules. TV report shows abuses at Gucci's Chinese subcontractors; defensive, the company however promises more inspections. SpiceJet, India's 4th largest carrier, seeks help from private equity investors: 5th quarterly loss in a row, millions in debt. Behind-the-scenes: how UPS and FedEx's team of meteorologists ensures that our packages get delivered as promised! Boring cybersecurity stocks sore after the Sony hack: these services are generally considered only once it's too late. Takata airbag issues push BMW to recall over 500,000 cars in the US (3-series, made between 2004 and 2006). Air China sign order agreement for 60 Boeings B737, for $5.9 billion total. Trying to make it in China, world's largest online retail, growing at over 8% per year. Growing US demand for iPhones means a revived Taiwanese economy. YOY exports to the US up 11%, mostly electronics. Starbucks drops support for Square mobile payment app in favor of its own, which supports pre-ordering and loyalty program. To spare about 150 pensions funds from running out of money, Congress passed law allowing benefits to be cut: money paid to retirees may not be enough to live on.

Monday December 22, 2014
Basel Committee wants global standards to assess risk and lending-banks' health. Russian central bank bails out first bank, a mid-sized lender, as confidence falters. Saudi oil minister steadfast: country won't cut oil production, regardless of price. Early numbers (1.7% market share in 40 days) show Apple Pay's a game changer. Record number of Russians buy UK investor visas ($1.6m+) as homeland economy sinks. DOJ slaps highest-ever foreign bribery fine on French conglomerate Alstom. NY ad agency Grey reorganizes offices to appeal to Gen X workers ("millennials"). Belarus tries to lucratively play its role as bridge between Russia and the West. "Cloud [floating] City" could allow human colonies on Venus, closer to us than Mars. China's the world's largest smartphone market; India to pass #2 US by 2016. South Korea lowers 2015 growth forecasts, despite US recovery and falling oil prices. Fox News / Business pulled from Dish Network after Fox fee increase. Tumbling oil prices push Venezuela ever closer to default: current price of ~$57/barrel way below the $85/barrel needed. Despite selling $90bn of foreign currency reserves (out of $450bn), Russia can't bring ruble back up: "Reserves can't make up for poor fundamentals", says Harvard economist.

Sunday December 21, 2014
Canadian court orders Adekunle Adetiloye, convicted of massive identity theft and credit card fraud (fake debt-collection scheme), to repay $1.6m to victims, in addition to his 18-year prison sentence. Eager companies do face hurdles trying to start doing business with Cuba, between US-side regulations, country not quite ready for foreign investment, and low indigenous income ($6,200/capita/year). Possibility that Sony might sell its production studio (small division of the company, with a mixed track record), last month's hack being the last straw. Japanese chief exec wasn't too warm to that movie from the start. Context: last quarter, Sony Pictures lost $10m; fixing the hack's damage will cost over $10m. Forbes' 5 critical factors to creating manufacturing jobs: trade laws enforcement, training programs, trade agreements, infrastructure projects, and corporate tax incentives tied to actual job creation. Pain of falling Russian tourism felt world-wide, economic turmoil in the country. Nicaragua's ambition to compete with Panama canal met with increasing resistance by locals, especially to-be displaced farmers. RNC urges movie-theater owners to show Sony's movie "The Interview", deriding North Korean leader Kim Jong-un. UK: Costa Coffee's journey from an unambitious operation in 1971 to a $1.5 billion behemoth - and growing. Haggen grocery chain to buy 146 Albertons and Safeway stores in WA, OR, NV, and AZ - pending the FTC's green light. Volvo unveils XC90 SUV, a limited run of $90k/piece vehicles to take on BMW's X5. UK car maker Lotus twice as profitable, but YOY revenues decrease by 10%.

Saturday December 20, 2014
Production caught up: Apple now shipping most iPhone 6 models within a business day. IRS hunts offshore accounts, issues summonses to FedEx, DHL, UPS, HSBC. Facebook sheds teenage users in 2014; many speculations, one of which is alternatives. Addiction to normally last-resort-tool of QE threatens global financial stability. 1.2 million Staples customers' credit cards possibly exposed in October data breach. Mercedes launches new compact hatchback, company's smallest vehicle in the US. Kentucky county's right-to-work ordinance forbids mandatory collection of union dues. Sony lawsuit by former employees tests company's legal liability on data breaches. Google sues MS AG to block subpoena on third-party content shown in search results. Chrysler expands US recall to 3.3 million vehicles, due to Takata airbags issues. Construction boom in China theme parks, led by Wanda Group, AMC franchise owner. Boeing to meet 787/Dreamliners year-end delivery targets; delays threaten profitability. Despite counterclaims, BBC says Apple didn't improve supplier working conditions.

Friday December 19, 2014
Apple CEO Tim Cook "deeply offended" by BBC report on Chinese factory workers. As it releases the Classic, Blackberry maker RIM's Q3 numbers out: $148m loss. End of Ally bank bailout as US government sells remaining stake, from 74% high point. Uber faces IRS scrutiny for employee / contractor status of its drivers. European exporters hurt by Russian crisis and sanctions; ruble 43% down vs. euro. India to set up global nuclear insurance pool against liability to encourage major US companies investment in the country. Chrysler recalls 288,000 Ram pickup trucks, 2005 model-year, for rear axle issue. Facebook must show that its ads yield brick-and-mortar traffic, where most purchases are still made; YOY ad revenue 64% up. Between presents and off-time to recover, Xmas busiest time for plastic surgeons. Uber, sued by Portland for illegally operating in the city, halts local operation until April. Awesome collection of charts: what data should you watch for in 2015, and why. Despite buzz, Airbus double-decker A380 doesn't sell: not a single order in 2014. Largest Asian stocks rebound in 15 months, on good news from US stocks and the Fed. Thai Union Frozen Products, world's largest canned tuna producer, buys US rival Bumble Bee Food for $1.5 billion. China promises to speed up imports of drugs and medical devices from the US, and to equally enforce local antitrust laws. PR backlash vs. cosmetics giant Sephora and promises not to price-gouge in Australia.

Thursday December 18, 2014
Disappointing holiday sales: retailers may still squeeze profit from steep discounts. Ford expands US recall from Takata driver-side-airbags for 500,000 vehicles. GM and Jaguar Land Rover stop deliveries of cars to Russia due to falling ruble value. Mercedes recalls ~5,000 SUVs in the US for potential oil leak: 2014-15 models. Operetta about the IRS Code, which pushes US companies to relocate abroad. Google stock flat, company faces tough competition, more attractive tech stocks. By the numbers: for middle class white kid, private university degree isn't worth it. CSPB sues Sprint, third largest US carrier, over unauthorized third-party fees. For each dollar in investment / charity / aid, developing countries lose two. Chevron postpones drilling in Canadian Arctic as oil prices plummet. Flurry of London high-end properties bought by wealthy Russians, as safe investment. Business groups praise relation normalization with Cuba, a virtually untapped market at US shores.

Wednesday December 17, 2014
Dish to add Netflix app to its second-generation Hopper set-top boxes (Netflix subscription still necessary). Wealth gap highest ever, with middle class wages and net wealth stagnation. Savings rates and homes haven't gone up like stocks did, which helps explain the trend. Widely predicted that US Federal Reserve is getting closer every day to the first interest rates increase in over 8 years. Medicaid expansion for poor Americans under Obamacare (9 million new enrollees) nets private insurers extra $9.6 million. US residential mortgage applications down despite rates lowest since mid-2013. Tesla sales forecast revised down by 40%, not helped by lower gas prices.

Tuesday December 16, 2014
Phone companies want to drop (unprofitable) land lines, now legally mandated by an "obligation to serve"; landline subscribers have dropped by half in under 10 years. The Economist Analysis: 2015 recession and other troubles in Russia: oil and gas, Ukraine, ruble and dollar debt, etc. Following sanctions and tumbling ruble, up to 125,000 potentially let go by Gazprom, Russia's top natural gas extractor. Global retail wars: low prices, sales, opening hours, and inventory. Bitcoin named "worst investment of the year", with a 50% drop in 2014. MSNBC launches new Shift streaming service to attract young(er) audience. Increasingly common past-due payments for variable-rate Russian borrowers: interest rates go from 5.5% to 17% in single year. Apple revenues breakdown as infographic: iPhone > iPad > Mac > iTunes / Software > Accessories > iPod. China expands influence and business in Eastern Europe. Yawn (and lol) - Putin wins 15th straight Russia's Man of the Year. India, top gold bullion buyer, sees trade gap increase after easing gold import rules. Ruble plunge rattles emerging markets, prompting sell-offs; Indonesian rupiah down to Asian-crisis, 1997 levels. 7-year-old kid leaves the US in 1976: now IRS tells him he owes $6,000 in taxes. 9% increase in airline industry's revenues
on baggage fees, to $1 billion. Oil now cheaper than water! Photo-essay: Inside China's Scrap Village.

Monday December 15, 2014
Increasing job threats from ever-smarter robots, partly explaining income inequality (NYT). US Manufacturing highest increase in 9 months, signaling strengthening economy (Reuters). Samsung still #1 phone maker, but sales down; sales up for Apple, Huawei, and Xiaomi (CNET). Xiaomi Chinese smartphone maker's 2013 profits now public: ~$56 million in 2013 (IBT). With falling crude oil prices, some oil producing states show signs of slowdown, affecting budgets, housing, and employment (IBT). New data: raising taxes on the rich won't fix global inequality (BW). Now 13 states have gas under $2/gallon: AL, AZ, CO, IN, LA, MI, MO, NE, NM, OH, OK, TX and VA (CNN). IRS' aggressive rules against tax evasion -FATCA- create difficulties for expats and foreign banks - in this case study, Asia (Forbes). China supplies 90% of the world's increasingly popular but largely unregulated e-cigarettes; concerns about explosions and carcinogenic and/or dangerous compounds (Age). China National Tobacco, larger than next five competitors combined, enriches its owner, the Chinese government: in-depth look (BW). PetSmart sold for $8.7 billions to private equity firm BC Partners and consortium (Forbes).

Sunday December 14, 2014
American net wealth: near-retirees have average assets of $170k, all-inclusive (401k, savings, home equity, cars, etc.) With mortgage, median American (middle class, by definition) has a net worth of $210k, but still has a $40k debt. Federal government employees' pensions are doing best; many state pensions are underfunded (BW).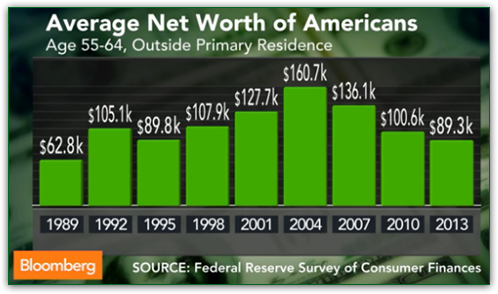 Despite oil boom, Venezuela's mismanaged economy nears default (CNN). NYT Bits blog: Amazon "Jeff Bezos' Lemonade Stand" (NYT). Nasdaq 100 re-ranking - IN: American Airlines, Electronic Arts, Lam Research. OUT: Expedia, F5 Networks, Maxim Integrated Products (Reuters).

Saturday December 13, 2014
Change of CEO at Christie's, with potential restructuring at the 248-year-old auction house. Following falling crude prices, number of active US oil rigs falls by highest weekly amount in two years. China used more cement over the past three years than the US did in the entire 20th century (BI). With the ruble losing nearly half its value against the dollar since January, Russia's on the verge of a recession, despite raising interest rates and using foreign reserves to buy its own currency.

Friday December 12, 2014
Net-wealth gap between whites and blacks widest since 1989, partly due to stocks, which regained value since 2007 (whites more likely to own stocks). US regulators pressure on Takata airbags issue pushes Chrysler to expand its vehicle recall. Ever-tumbling crude prices (five-year low, stemming from weaker demand, unabated exports, new shale extraction techniques) threaten social stability of poorer oil-exporting countries; also lowers prices of US foodstuff; uncertainty brings job and spending cut announcements from oil-industry dependent companies. Stagnating inflation, well below 2% Fed target, adds difficulty to next week's talks on interest rate policies.

Thursday December 11, 2014
Retail sales up 5% year-over-year, thanks in part to low gas prices. Ruble falls to record low against dollar despite Russia's interest rate hike to 10.5%. Spain's new law requiring payment for links means no more Spanish newspapers on Google News. Following Toyota, Honda / Nissan / Mitsubishi recall vehicles affected by Takata's potentially deadly airbags. Brazil prosecutors charge 35 former Petrobas officials and contractors in mega corruption scheme.