Forbes). China supplies 90% of the world's increasingly popular but largely unregulated e-cigarettes; concerns about explosions and carcinogenic and/or dangerous compounds (Age). China National Tobacco, larger than next five competitors combined, enriches its owner, the Chinese government: in-depth look (BW). PetSmart sold for $8.7 billions to private equity firm BC Partners and consortium (Forbes).

Sunday December 14, 2014
American net wealth: near-retirees have average assets of $170k, all-inclusive (401k, savings, home equity, cars, etc.) With mortgage, median American (middle class, by definition) has a net worth of $210k, but still has a $40k debt. Federal government employees' pensions are doing best; many state pensions are underfunded (BW).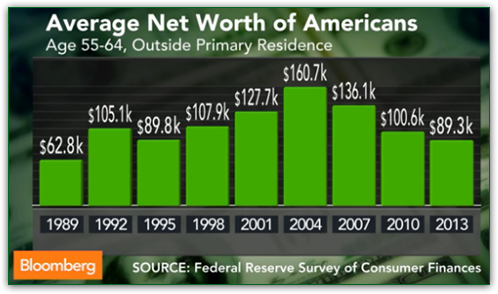 Despite oil boom, Venezuela's mismanaged economy nears default (CNN). NYT Bits blog: Amazon "Jeff Bezos' Lemonade Stand" (NYT). Nasdaq 100 re-ranking - IN: American Airlines, Electronic Arts, Lam Research. OUT: Expedia, F5 Networks, Maxim Integrated Products (Reuters).

Saturday December 13, 2014
Change of CEO at Christie's, with potential restructuring at the 248-year-old auction house. Following falling crude prices, number of active US oil rigs falls by highest weekly amount in two years. China used more cement over the past three years than the US did in the entire 20th century (BI). With the ruble losing nearly half its value against the dollar since January, Russia's on the verge of a recession, despite raising interest rates and using foreign reserves to buy its own currency.

Friday December 12, 2014
Net-wealth gap between whites and blacks widest since 1989, partly due to stocks, which regained value since 2007 (whites more likely to own stocks). US regulators pressure on Takata airbags issue pushes Chrysler to expand its vehicle recall. Ever-tumbling crude prices (five-year low, stemming from weaker demand, unabated exports, new shale extraction techniques) threaten social stability of poorer oil-exporting countries; also lowers prices of US foodstuff; uncertainty brings job and spending cut announcements from oil-industry dependent companies. Stagnating inflation, well below 2% Fed target, adds difficulty to next week's talks on interest rate policies.

Thursday December 11, 2014
Retail sales up 5% year-over-year, thanks in part to low gas prices. Ruble falls to record low against dollar despite Russia's interest rate hike to 10.5%. Spain's new law requiring payment for links means no more Spanish newspapers on Google News. Following Toyota, Honda / Nissan / Mitsubishi recall vehicles affected by Takata's potentially deadly airbags. Brazil prosecutors charge 35 former Petrobas officials and contractors in mega corruption scheme.

× Click here to return to your news summaries ×